Mechatronics engineering

Coherent construction of system design and manufacturing for clean environmental facilities.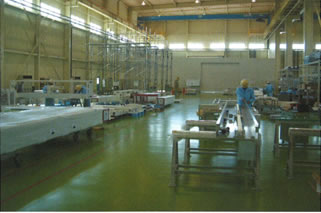 We response to customers needs creating suitable environments for facility construction, examination and packing which is used under the clean environment such as liquid crystal and semiconductor.
Environment of construction facility
Area : 2,800m2
We have a specific area for clean environment. High quality demand is acceptable with special booth.
We have hoist crane devices for maximum 10T. Huge scale productions are possible by using the range of our facility.
Featuring point

Coherent system on clean environment

We propose the best solution for the customer based on the long and various kinds of business exeperience for automation technology.
We provide the after care services to increase the qualities and productivities.
We provide the coherent system which is design to local set up and adjustment.
We guarantee the safety of facility where is for design and manufucture is inspected by the person who have the certification of safety assessor.
Business contents
We provide a handling facility which is suitable for clean environment such as liquid crystal and semiconductor.
We realize the way of man-less operation and labor-saving to have quick response to factory automation era.
We provide products which are flexible, efficient, and highly accurated and satisfied including robot and special-purpose machine from large to small size using high mechatronic technology.
Business lines
Glass substrate handling device for liquid crystal
Variety of palletize system
Clearn-stocker AGV-construction and maintenance.
Industrial robots ,peripheral devices and automated warehouse
Assembly of equipment for clean room