Plant-engineering & maintenance

We contribute to produce and support from design, manufacturing, electricities, set-up to maintenance through our total engineering structure.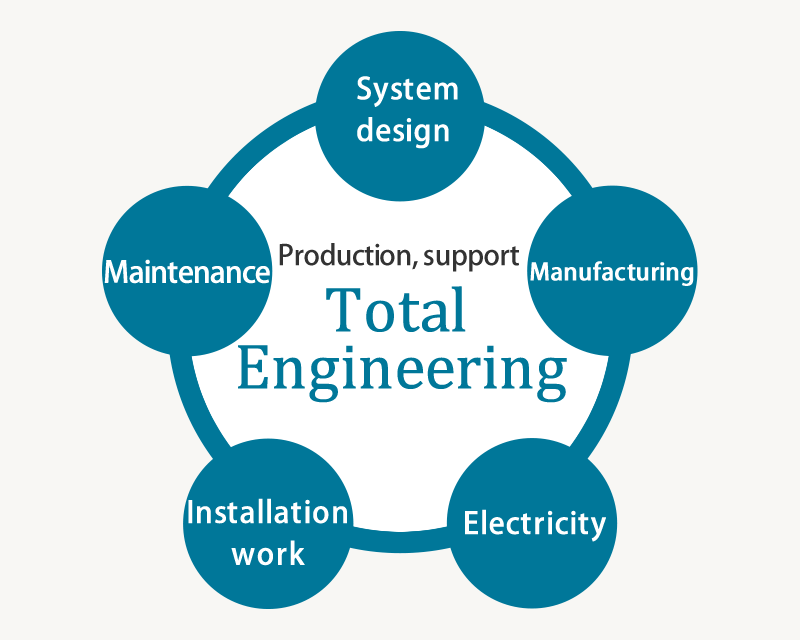 We propose and design specialized equipments such as special Large conveyance facilities, ultrasonic flaw detector,automated warehouse. We are operating responsible facility maintenances through our long time exeperience and maintenance technology on steel, chemical, ceramics and various kinds of business field. We also contribute to produce and support customer's needs from design,manufacturing,electricities,installation work to maintenance using our total engineering structure.
Featuring point

coherent system with machine and electricity from huge scale to tiny

Business contents
Having conveyance technology of large diameter steel tube and slabs in the steel production as main business, we produce and support various industrial eqipment devices that functionality is high and is economical such as ultra flaw detectors, automated warehouses and slag removing apparatus by coherent system of total engineering structure.
We help to manufacture testing devices on customer's demand from scratch.
We support to change rayout of existing facilities or installation of new facilities from planning phase.
We support operations of tiny repairs and maintenance of existing facilities.
We also make it possible that set crane liftings and everyday maintenance including preparation for inspection of the government officials or civil servants.
Main achievement
Related to wire drawing makers
Facilities and technologies
1. Rough guide of facilities
Area site for the factory 6,600m2
*Scrolling is possible levelly.
factory
area
Lifting equipment equipment
size
bender factory
1,610m2
ceiling crane 2.8t 2machines
Tin can factory
1,610m2
ceiling crane 5t 2machines
Assembly factory
920m2
ceiling crane 2.8t 1machine
5t 1machine
inner measurement of shutter (wide6,000xhighth5,000)
tent house
bridge crane 5t 1machine
2. Main facilities
*Scrolling is possible levelly.
Equipment
abilities
Radial drilling machine
2machines
bandsaw
3machines
bandsaw (maker:Amada machine tools)
2machines
(right angle cutting)wide400mmxhighth280mm
320mm,300mm
bandsaw (maker:Daito Metalworking machinary)
1machine
(right angle cutting)wide900mmxhighth500mm
shearing machine
1machine
SS400*12t, SUS304×6t, wide maximum 2,500mm