Electro special molding

From extreamly thin or thick to 3D copy ,we provide variety of "monozukuri(Japanese way of making goods)" by application of special electroforming
The technology of Mishima's electroforming has its 40years history. We aim for making electroforming goods to the customer's needs based on a lot of accumulated knowledge. We meet the customers needs widely using our unique characteristic that can construct a large product. We have also variety of arrangement such as nickel, nickel alloy, cobalt, cobalt alloy and copper.
featuring point

one of the biggest facilities of elecroforming in Japan

We have one of the biggest electroforming facilities. We provide manufacturing of large products.
one of the largest electrofoming facilities
Limit of manufacturing size
Plate : 2,600mmW * 1,200mmL
Pipe : 2,100mmφ * 2,400mmL
List of products
Chemical plant related (except breaker drum)
Electroform mold related
Semiconductor and gas related
featuring point

manufacturing of special and unable products by machine processing

We can provide the products that is unable to make by machine. Like a lower photograph, we realize special shape quality of the built-in structure that placed an impossible cooling hole by machine processing by electroforming.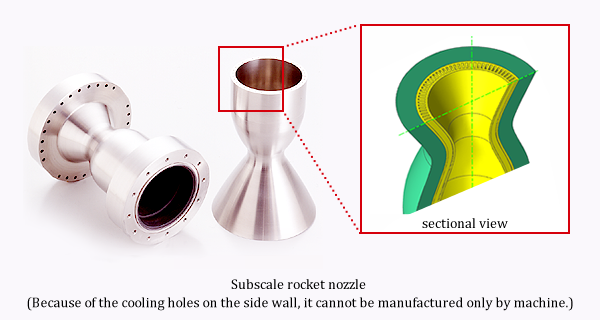 Subscale rocket nozzles (it is unable to make by machine only because of holes for cooling on sidewall)
List of products
Subscale rocket nozzles (For combusion experiment)
Electric wave pipe-related
Difficult machine-making products
Thermal plate products related (corrosion-resistance, abrasion-resistance)
Boiler tube (hi-heat corrosion-resistance)
featuring point

large area precision electroforming

Large area precision electroforming and 3D copy electroforming are possible. We drive the product reclamation of the field of advanced technology such as mold which needs super exact transcription characteristics.
Limit of largest size of manufacturing
List of products
minute processing transcription mold related