Roller(surface processing & polishing) branch
In correspondence with surface processing, abrasion resistance processing to various rolls and parts, we response to the customer's variety needs by ordinary Cr, Ni Plating, corrosion resistance, abrasion resistance, original excellent Plating and thermal spray.
We provide excellent quality products under the total construction system from design to manufacture and delivery.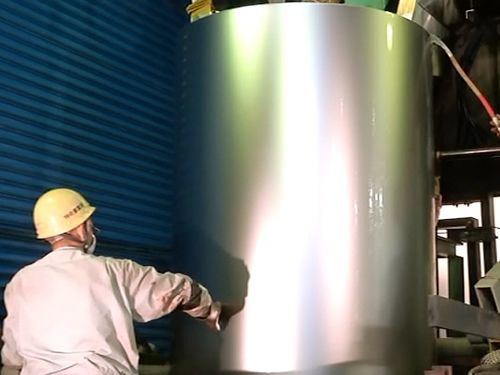 Featuring point

provide the design for roll which is used under severe circumstances.
Total made of roll from design, operation to surface processing.
We cope with through quality controll and advanced technique from recieving order to delievery.

We propose design of roll which is used under severe circumstances.
【Main body strength design】We provide the best structure design for roll along with use environment and load by FEM structure analysis.
【Mainbody cooling design】We provide the best cooling design for roll which is used under high heat environment by FEM heat transmission and fluid analysis.
【Surface coating design】We provide the best coating design for purpose and use environment with combination of original coating technology, heat transmission and structure analysis.
Featuring point

surface processing for the needs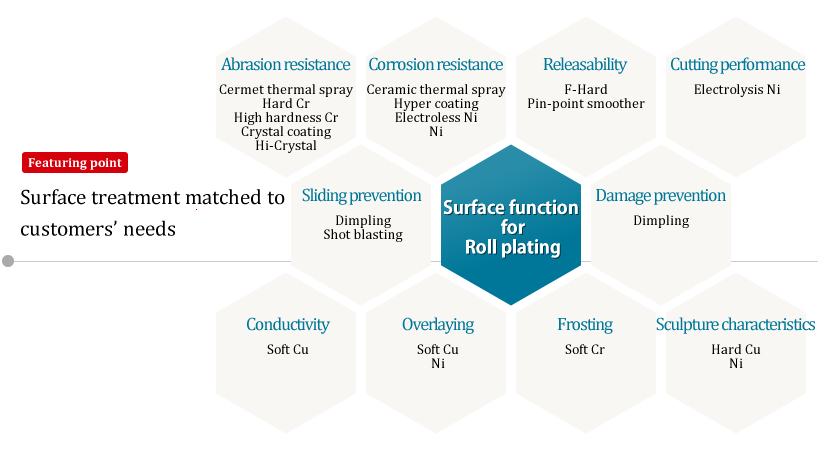 Main roll surface processing technology
*Scrolling is possible levelly.
classification
main elements
coating . process analysis
originality
function/th>
Plating
Cr
Hard chrome
abrasion resistance
Soft chrome
delustering
High hardness chrome
abrasion resistance
Wax coat

original

abrasion resistance
hi-wax

original

abrasion resistance
Ni
Ni
corrosion resistance
surfacing
Electroless Ni
corrosion resistance
Electrolysis Ni
corrosion resistance
cutting ability
hyper coat

original

corrosion resistance
abrasion resistance
F-hard

original

mold release
copper
soft copper
surfacing
abrasion resistance
hard copper
Sculpture characteristics
conductivity
thermal spray
thermal spray
abrasion resistance
corrosion resistance
ceramic thermal
corrosion resistance
abrasion resistance
processing
shot blasting
sliding prevention
dimple processing

original

wound prevention
pin point smoother

original

mold release
mirror procrssing
mold release
wound prevention
hyper mirror procrssing
mold release
Smoothness
We offer surface processing and final polishing processing for industrial rollers that are used in the various kinds of factory such as steel, films, papermaking, building materials.
About roller materials, it is possible to plate to special materials such as Iron-based material,stainless,aluminium,carbon.
About kind of coating,there are several kind of them such as, industrial chromium plating, crystal coating which is original and is improved of quality of abrasion resistance drastically,Ni alloy,composite plating,copper plating also, several kinds of polishing such as satin coating and hyper-mirror-coating, we provide surface processing roller to meet the customer's needs.
various kinds of plating, detailed explanation of processing