CSR & management philosophy
Management philosophy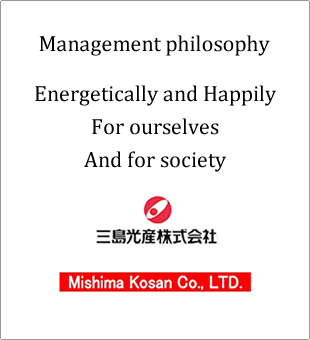 Corporate Guideline
Corporate Guideline
Based on the corporate philosophy, we drive our actibities aiming for contributions of the society
Respect every employees and create a healthy environment where individuals are able to work lively
Meet the customers satisfaction and create the new value of business
Enhance the value of corporation and transparancy of management
Engage in fair ,free and transparant trade
Comply with laws and regulations and conduct faithful business operation
Prioritize importance of three things (site,product,reality) and improve the situation
Aiming for association with local societies and environmental friendly company
Employee action guideline
We do maintain and improve the safe and comfortable environment of workplace.
We do respect the individual characters and personalities and make the healthy corporate culture where everyone can exchange their opinions freely.
We do make the products and contribute the services to meet the customers needs and trust.
We do listen the customers sincerely and challenge to create the new value.
We do improve the management efficiency and the profit system and try to increase long and sustainable corporate value.
We do appropriate disclosure of financial condition and provide the management transeparancy.
We do fair trade of quality, delivery date and price between every customers based on the competition principal.
We do appropriate disclosure of information and provide the fair and transparent trade.
We do comply with laws and regulations and carry out the sincere corporate actibities.
We do try continuous improvement and collect the informations that is prioritized improtance of three things (site ,products,reality).
We do propel the system of recycle and reduce enegy as well as comply the laws of environment-related and increase consciousness of environment.
We do our commitment to make society better and line together width our local society through joining the local activities.
Compliance